appetizers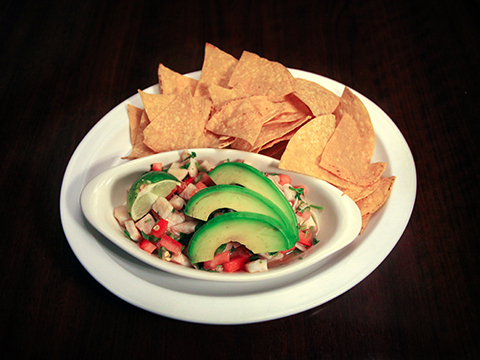 Ceviche
Sea bass ceviche with jicama and avocado slaw, ceviche mixto with corn and sweet potato, and ceviche​ with pico de gallo.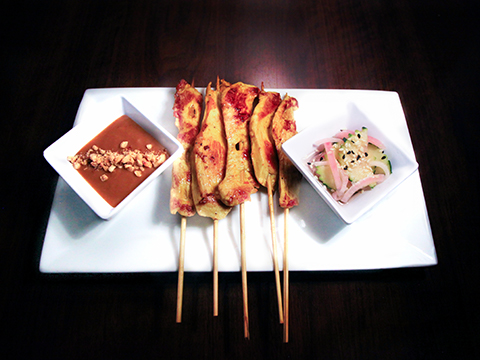 Chicken Satay
Five marinated chicken skewers served with a house made peanut sauce.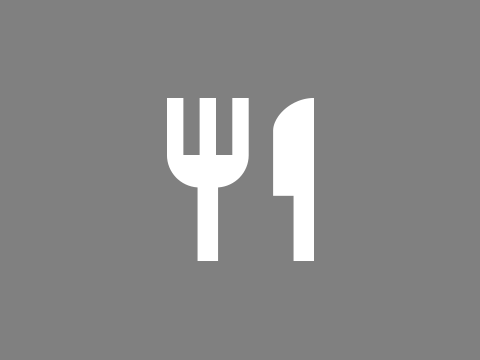 Spring Rolls
Shrimp and pork rolled in rice paper.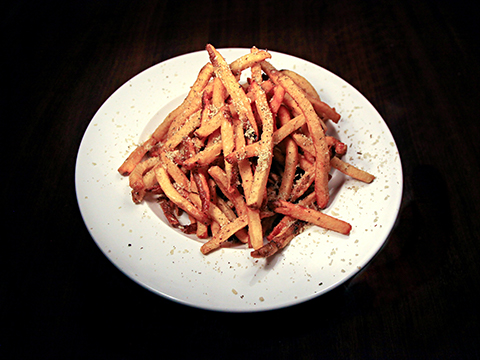 House Fries
Freshly cut fries, Parmesan, and fried herbs tossed in truffle butter.
salads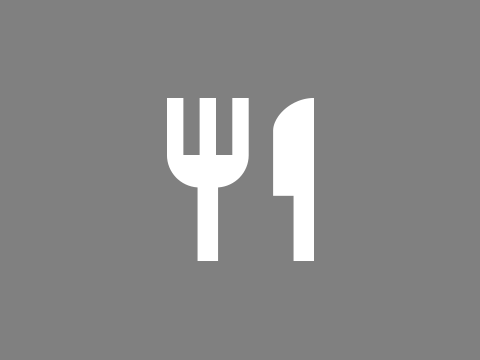 Caesar Salad
Romain lettuce, croutons, Parmesan cheese, and grilled chicken tossed in homemade dressing.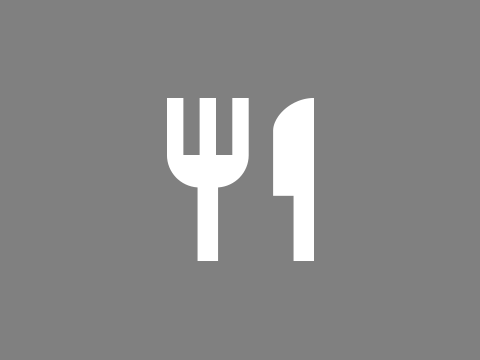 Ropa Vieja
Choice of shredded beef or chicken, lettuce, onions, tomatoes, avocado, tossed with citrus vinaigrette and topped with queso fresco.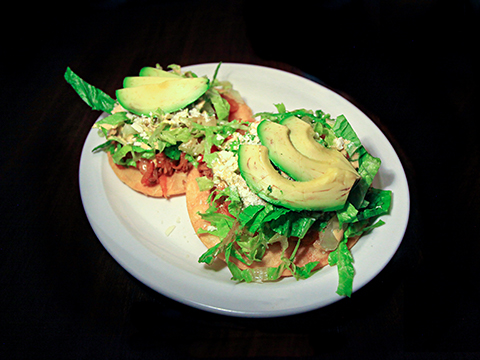 Tostada de Tinga
Shredded beef, onions, tomatoes marinated in chipotle sauce over a tostada, topped with lettuce, avocado, queso fresco, cilantro, and sour cream.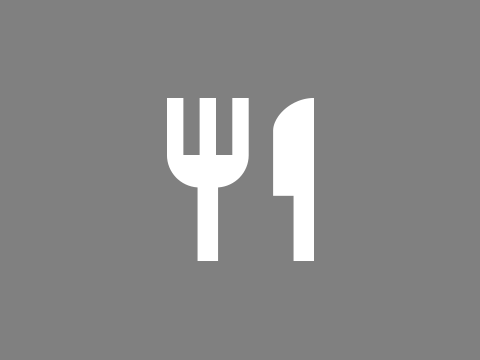 Soup and Salad
Soup of the day with a house salad.
Burgers and Sandwiches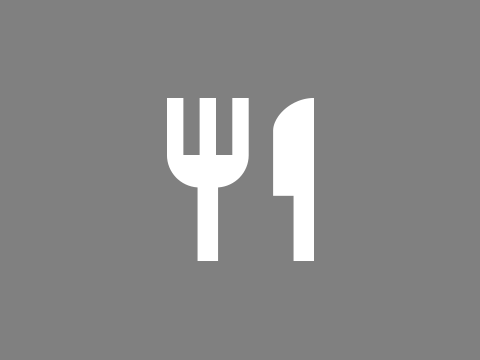 Mexi Burger
1/3-pound patty with lettuce, tomatoes, onion, roasted jalapenos, avocado, bacon and queso fresco.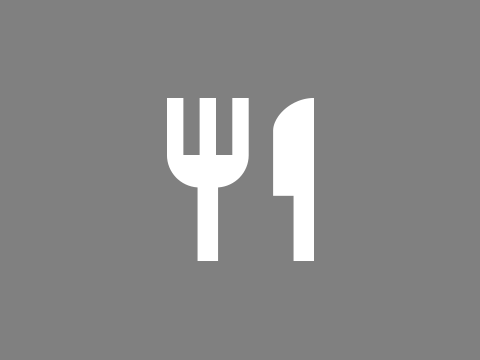 Peanut Butter Burger
Creamy peanut butter, pepper jack cheese, chipotle aioli, Lettuce, tomato, onion, bacon, and Sriracha.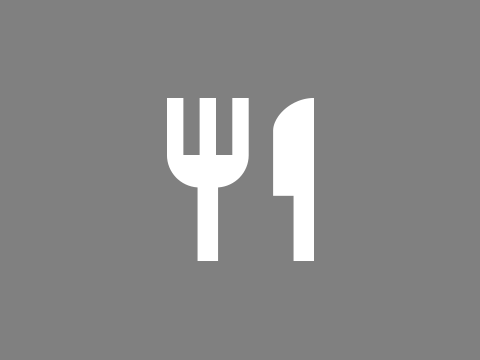 Mushroom Burger
Sauteed onions, and mushrooms over a 1/3-pound patty with Swiss cheese.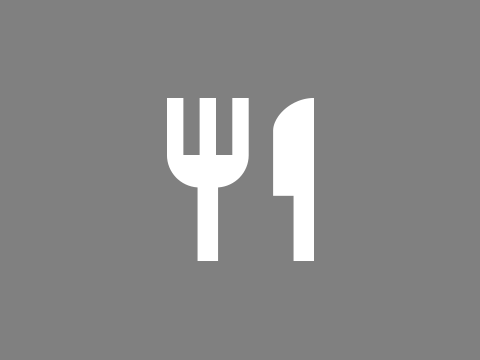 All-American Bacon Burger
Lettuce, tomato, onion, pickles, 2 slices of bacon, and cheddar cheese.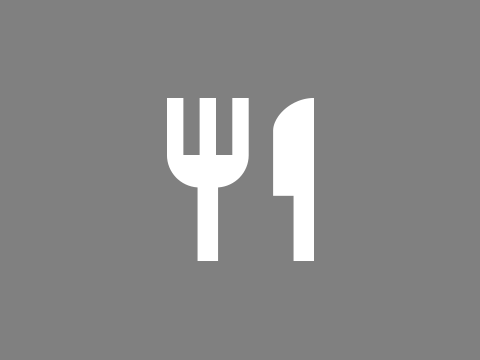 Club Sandwich
The classic diner sandwich on sourdough served with house made chips or fries.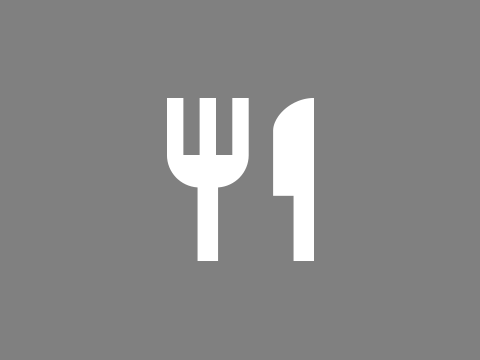 Torta de Pierna
Pork marinated in herbs and spices and oven roasted served in Mexican bolillo.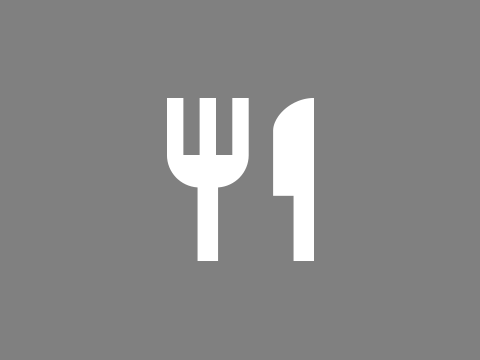 Cuban w/Banana Chips
Mustard, pickles, roasted pork, turkey, Swiss cheese all between fresh French bread.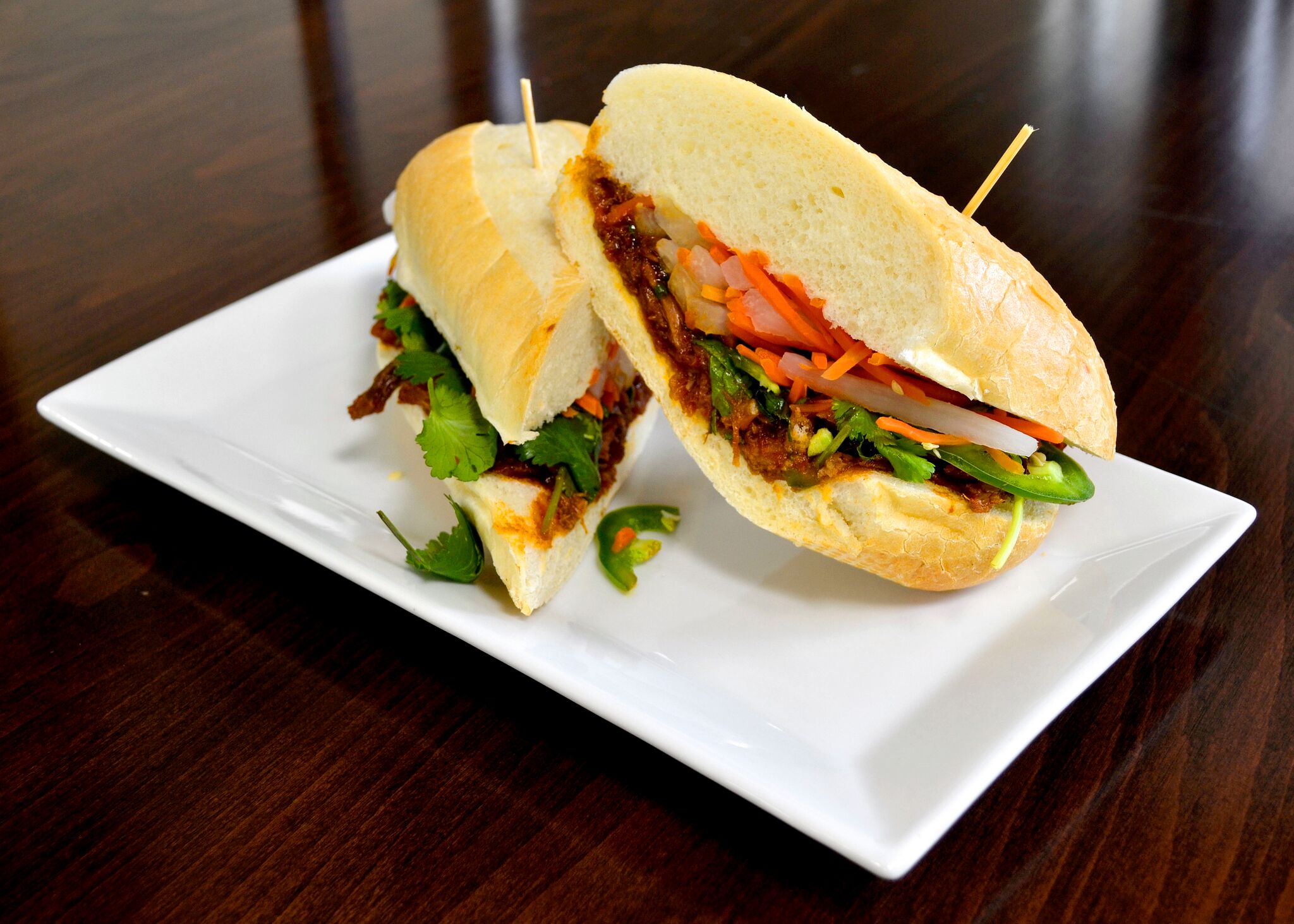 Banh Mi Sandwich
French baguette with roasted pork, Vietnamese ham, pork pate, and pickled veggies.
Entrees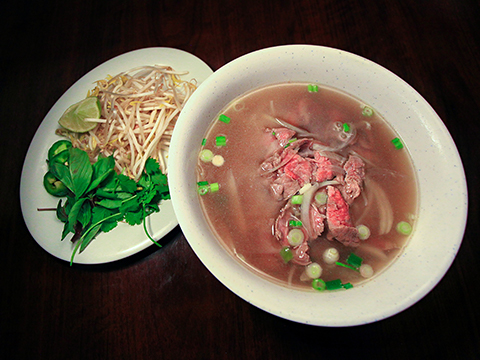 Beef Pho
Beef Stock with rice noodles and medium well Beef Flank. Served with cilantro, basil, bean sprouts, jalapenos, and lime on the side.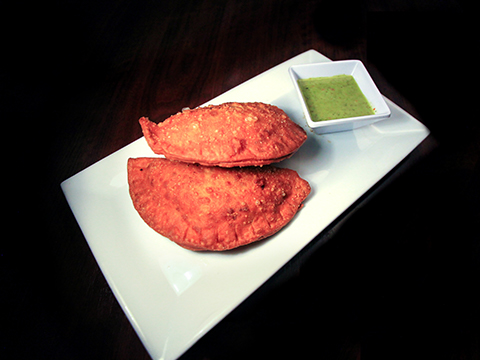 Empanadas w/Chimichurri
Fried and stuffed with ground beef and raisins.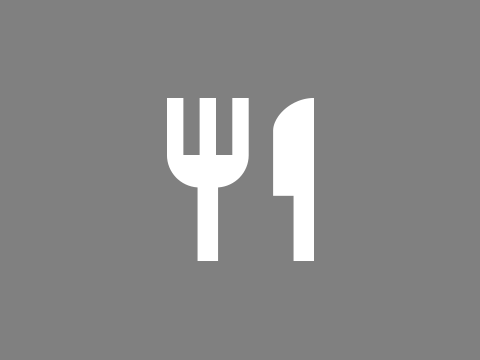 Pastelitos de Carne
Shredded beef with green olives, potatoes, and tomatoes in pastry dough.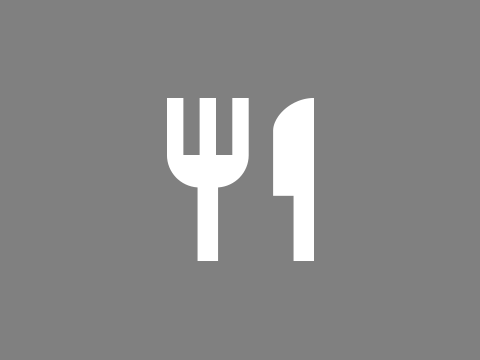 Grilled Veg Sandwich w/Pesto
Eggplant, zucchini, carrots, bell peppers, onion, and tomato all on ciabatta bread with pesto and a balsamic reduction.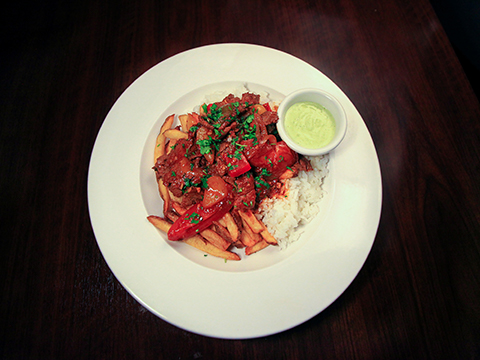 Lomo Saltado w/Rice
Tenderloin beef sauteed with onions, tomatoes, and fresh fries.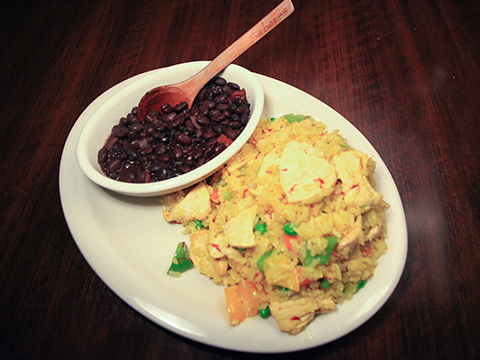 Arroz con Pollo
Chicken marinated in herbs and spices, served with saffron rice and black beans.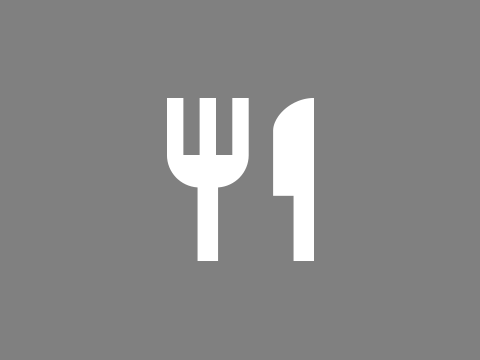 Cerdo Picante
Pan roasted pork chops served with split peas.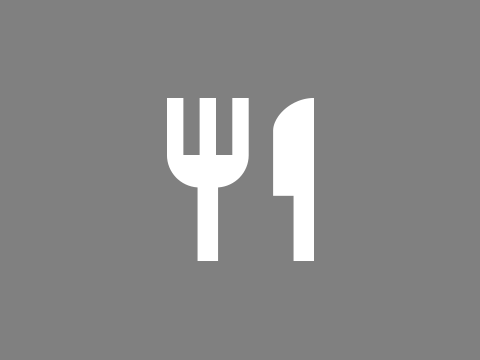 Cochinita Pibil w/Rice
Achiote marinated pork butt slow cooked in banana leaf served with rice and black beans.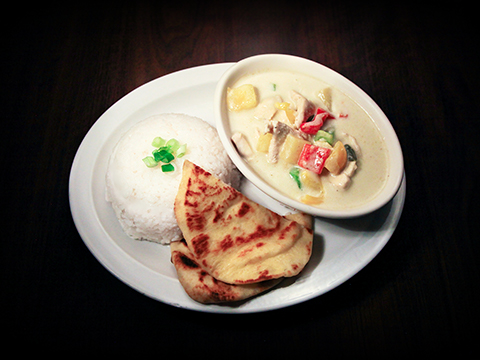 Thai Curry w/Rice
Sliced chicken breast in a green mild curry with pineapple served with white rice.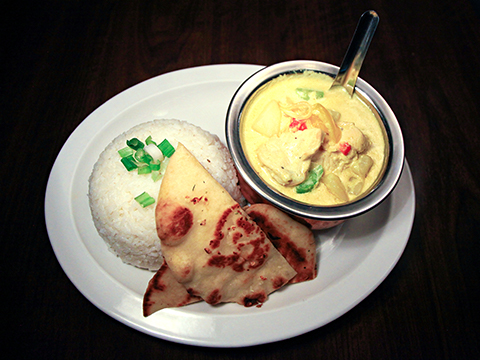 Yellow Curry w/Rice
Creamy chicken curry with potatoes, bell peppers, and onions served with Basmati rice.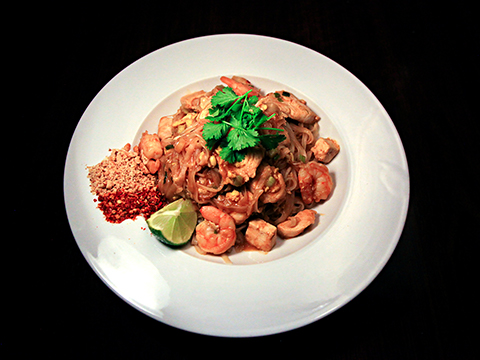 Pad Thai
Shrimp, tofu, chicken, bean sprouts, and egg tossed in tamarind sauce and peanuts.